While KPOP fans have always taken their pride in their idols' pulling of the most difficult and sophisticated as easy as a piece of cake, there are also moments where the choreography just included some really weird Kpop dance moves that not even a single fan could understand whether the idols were dancing or sleepwalking. 
1. Taxi-hauling and star-fetching dances – Lisa
Opening this video, let's kick off with one of the most famous and funniest dances of all time: Lisa's taxi and star-grabbing dances. 
Upon BLACKPINK's appearance on Knowing Bros in 2017, the idol has made some unforgettable moments with her talented dancing skills. While she did some really sophisticated and sharp moves, the most viral moment was when she recreated the famous taxi-hailing and star-grabbing dances. 
In the first dance, to add some realistic elements to the funny performance, she shouted out loud: "Taxi! Taxi!" before starting the dance.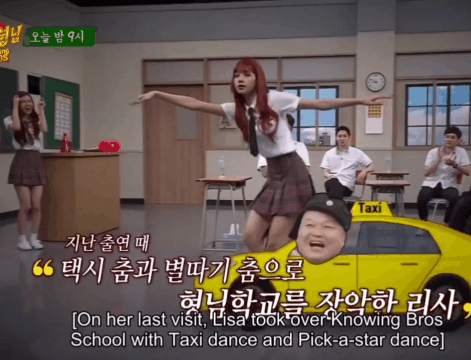 Then right off the bat, she spread out both arms and non-stop waving one hand like she was hailing a real taxi. In the latter half of the dance, she even bent her knees a little bit to portray the situation where she was so tall and thus, the taxi couldn't see her in the crowded street.
After multiple failed attempts, the idol put on a miserable face and dramatically acted like she was about to die if unable to grab a car to the appointment. 
However, as a 4D persona, she was also quick to turn on the quirky mode and recreated another hilarious performance – the star-grabbing dance. 
After one of the hosts said yes upon her request to give him a star, the idol immediately did the rope spinning gesture that we often saw in Hollywood cowboy movies and started pulling the shining asteroid from outer space.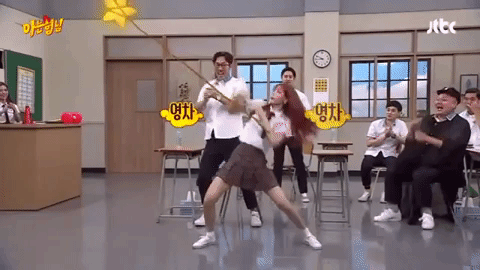 Then, she jumped back and forth and pretended to be pulling a heavy star within her reach. Although there were no actual stars floating around, and of course no human being is capable of fetching such a humongous entity, her bending knees and anguish expression really suggested that everything was real. 
2. Crab-pinched dance – Lisa
In KPOP, Lisa is indeed the queen of setting trends since upon BLACKPINK's appearance on Knowing Bros in 2020, she took another quirky dance of Thai to trend internationally: the crab dance.
However, if you want to nail this dance as well as Lisa, you must follow one rule: keeping the poker face throughout that whole weird dance.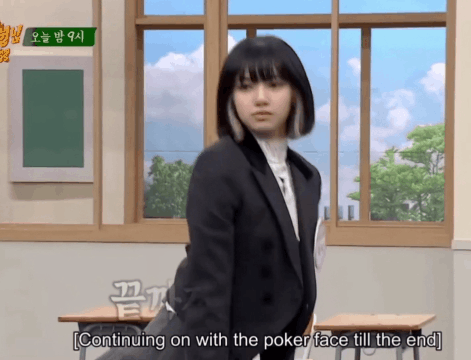 Kicking off the dance, she smashed one hand on another with an agonizing expression. Soon enough, that dramatic mood changed into a soulless, poker face as she extended her arms forward, did the V sign to mimic the crab pincers and slightly pushed her hips up and down with the straddling legs.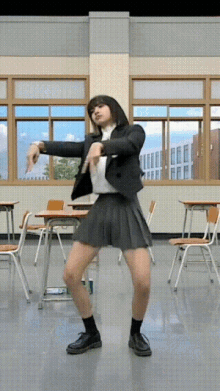 After repeating that thing twice, she bent her knees a little bit and did the movement which pretty much reminded people of a girl trying to scoop some water into her skirt.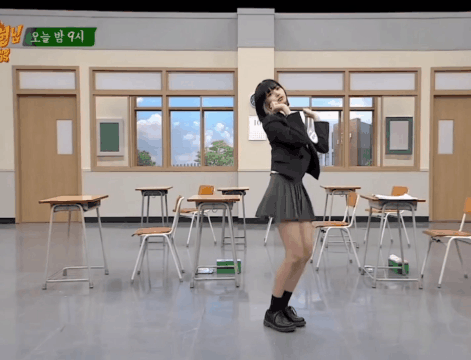 Since that was an upgraded Thai dance of Lisa where she would just put on a straight face instead of a dramatic, emotional one, when dancing to some eccentric moves, the whole thing quickly went viral.
Compared to the previous videos where Lisa did the taxi and star-fetching covers, the crab dance reached the doubled number of views on Youtube – 80 million views as of the creation of this video. 
Despite the explosive virality of the performance, host Lee Soo-Geun believed that the crab dance could also improve more. Since the lyrics were telling about how a young girl was pinched by a crab, which was quite sad and violent, Lisa's poker face didn't totally capture the spirit of the song. Instead, she should have rolled her eyes to the back to show how painful the girl in the song was.
3. Amor Fati freestyle dance – Irene
Another viral quirky dance that was made by a top KPOP star is that of Red Velvet's Irene. Back in 2018, when small footage from a TV promo for the KBS Gayo Chaechukye was posted on Youtube, the Internet literally exploded for Irene's hilarious dance to "Amor Fati," the song that was chosen to close the event on 28th December. 
Though the spontaneous dance of Irene was just as funny as that of Lisa, it actually went viral for the stiff and somewhat outdated moves that Irene made. By that, it means if you turn back the clock to around 30 years ago, you'll see how people at the time were all crazy over these moves and always opting for them when vibing in the club.
Kicking off the dance, Irene did a slight headbanging move, body shake and quickly changed into the signature hand-wave dance that was quite popular with idols of gen2.
Then, Irene pushed the cringiness of the video to the max level by doing the famous head isolation move while slightly hopping up and down to the beat.
Throughout the forty-four-second long video, she repeated the dance twice before ending it with the hilarious body shaking and the hands-behind-head move that we often see at yoga classes. 
Just a few days after KBS published the video on Youtube, tons of memes were made out of the original clip. From Red Velvet music videos, the collab stage of the members with other artists to the store of fast food brands like KFC and Wendy's, anything could become the material to compliment the memeable dance of Irene.
4. VIU dance but only focusing on HIGHLIGHT's Yoseob and Hyunseung 
When HIGHLIGHT appeared on Weekly Idol, the boys served fans with a super-duper quality entertaining time when nailing the random dance section like no others. 
As soon as the music started, each member began to indulge in their own world and literally turned into some funniest dorks on Earth in a matter of seconds. 
Still, of the six members, Yoseob and Hyunseung were said to be the most hilarious with their shameless dance (0:12-0:15). 
After Yoseob acted as if the floor was hot lava and he could only stand on one foot, he elevated that quirky dance to a new level by bending the back, waving the hands and jumping up and down like a monkey doing tricks in exchange for bananas. 
In the middle, we had Hyunseung who was dancing like he was suffering from a neck problem. While his whole body was moving as fluidly as water, his head was non-stop facing up toward the ceiling and his neck didn't even move an inch. If you have an eye on him for a little longer, you'll notice how similar his dance was to a drunk person who was trying to use the sky as a compass to navigate his way home. 
5. The triggered gorilla dance – Chanyeol
Next comes the fierce dance battle of Chanyeol against his seniors on Dancing King two years ago. 
Instead of starting off gently like most people, he began his dance by throwing himself in the air, landing with two legs crossed before quickly rolling two rounds on the floor (1:56). 
Though his crash landing was watched through the screen, I bet most of you can sense how the ground was about to break in half.
As if that wasn't impressive enough, he quickly stood up and proceeded the quirky dance with a convulsing body, continuously stomping, gesticulating and pushing his hip back and forth. Within literally a split of seconds, he turned into an angry gorilla (2:01) that was about to destroy whatever it saw.
6. The girl-whose-hands-are-windscreen's wipers freestyle dance – D.O
In total contrast to the fierce performance of Chanyeol was that of D.O. Still, despite being quite gentle with all the moves, he still managed to shock everyone with the cringe and eccentric freestyle dance. 
Kicking off the dance, D.O was putting his hands together, walking in a stealthy way while pushing the hips back and forth as if he was praying to God to let EXO win the dance battle.
Then the idol moved his body to the left and right as smoothly as a boneless worm and did the hand movements that were literally mimicking the wiping windscreen wipers (2:38).
To show off his knowledge in ballet, which was probably approximately to zero, D.O did some twirlings before ending the hilarious dance by jumping back to the seat with a slightly exaggerated hip-shaking movement.
So, do you wanna add any other fun Kpop dance moves to the list? Comment down below to share your thoughts with us!