While AOA Mina is still struggling with the "stealing boyfriend" scandal, accusations of her bullying actions in the past suddenly emerge! Well, it seems like this girl always has a lot of controversial stuff surrounding her. 
So recently, on Twitter, netizens were extremely shocked by a post denouncing that Mina dropped out of school, was a bully at school and her alleged victim even considered s*icide.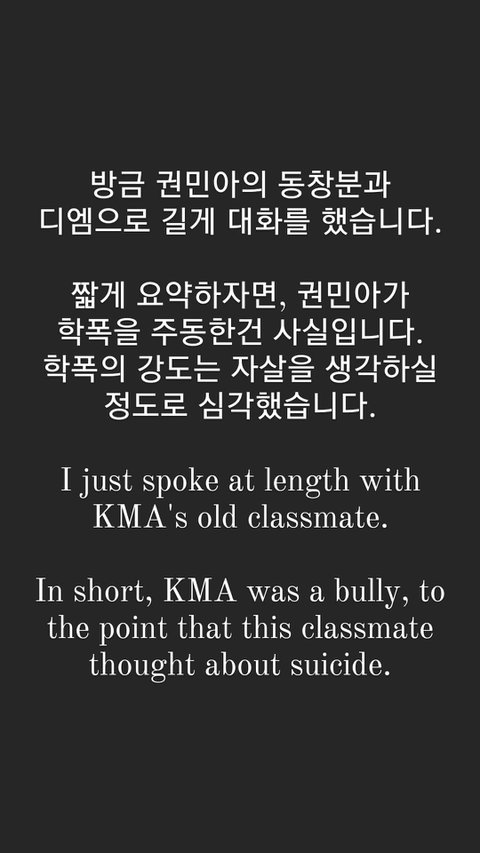 For starters, the owner of this post, let's call her "A", revealed a conversation with Mina's alleged victim, proving the female idol did drop out of school: "Mina dropped out of middle school so her photo is not shown in the graduation album."
In the message, the victim said: "For better or worse, I just hope she gets out of my sight". She even hates reading articles about Mina when the female idol becomes famous.
"Kwon Mina's victim told me in detail how she was bullied, but she was afraid Mina would know who she was. Up to now, she is still seriously suffering from post traumatic stress disorder. At least there is proof that I talked with Kwon Mina's classmate" – A said.
After this post, many netizen s are turning their back on Mina. Some even expressed that they regretted rooting for her in the past, because it turned out "a victim of bullying was also a bully?" They even claim that Mina's story about Jimin is just a one-sided statement without any proof.
There's no solid evidence, but people were so quick to pick Mina's side and believe Jimin was a bully. They treat Mina's words as truth while thinking other people's words are lies. 
Some netizens even gave empathy towards Jimin when expressing: "At this point, Shin Jimin is also pitiful".
Others have come to notice that after the AOA bullying scandal, Mina usually grabs the headlines related to it, even though Jimin has already been punished in every way, while Mina literally received all the empathy in the world.
"Why can't she move on?" – a netizen asked – "How long is she going to milk the bullying scandal?"
However, an old question raises in literally every bullying case: Why does the victim only speak out now?
Perhaps in the past, Mina received a lot of support from fans, especially after the AOA bullying scandal, so the alleged victim was afraid that her accusation would sink and nothing would be resolved.
But now, when Mina is entangled in the boyfriend scandals, maybe she realized this is the perfect time to speak about it.
However, up to now, everything is still very vague. The post did not reveal the specifics of the case: When did the incident take place? How did it happen? And who exactly is the victim?
Meanwhile, Mina hasn't raised her voice about this yet. It could be an unreal rumor that she doesn't wanna get involved in, or maybe she is too overwhelmed with the constant attention and has yet to make a move.
Anyway, everyone is eagerly waiting for an official statement. So stay tuned with us for more updated information!