Do you believe in spirituality, ghosts, devils, and the parallel world? Believe it or not, the fact is that there have been many Kpop idols who have witnessed those mysteries with their own eyes.
Through a number of variety shows, they have shared their own stories about some frightening encounters with the supernatural forces which would give us goosebumps.
EXO
On Beatles Code 2, Baekhyun revealed that in the group's MV MAMA, there was a human voice in the middle of the song. If you listen carefully, it is a woman's voice saying "Thank you everyone" in Chinese.
The male idol explained that the voice can only be heard on the music video, not in the song. The creepy thing is that, if you search for the MV on youtube, you can still hear that voice.
Chanyeol and Chen also shared that they used to use the same bedroom. That night, Chanyeol went to bed as usual and suddenly he couldn't feel anything. Chanyeol said in fear that it was like he was controlled by a ghost. The ghost then attacked Chen as Chanyeol was completely shocked to hear Chen shout "Help me!"
Things did not stop there, do you remember the creepy situation that happened with EXO's MV Growl? This incident has also become a shocking topic of discussion for a long time.
Specifically, in one scene, a human figure suddenly appeared at the window behind the boys. At first, everyone thinks it is just a staff accidentally happened to be in the frame during filming. However, EXO's representative later confirmed that there was no one around the place at that time.
On 102.7 KISSFM, PARANORMALish category – where celebrities share mysterious stories based on their own experiences, BlackPink revealed their experiences of encountering ghosts in their own dormitory.
Lisa recalled, "That night I was so tired so I went to bed early alone. Suddenly I heard someone banging on my wardrobe. I wanted to see who that was but I couldn't open my eyes or even move an inch. Then I felt someone walking towards me, standing next to me laughing. I was so scared as I shouted, 'No'."
She continued, "Then I awoke frightened, ran out and slept in the living room"
Rosé added that Lisa once returned to Thailand and brought this story to a psychic. This person said that there was a ghost living inside that wardrobe. This made the girls extremely scared and they decided to move out of the dorm immediately.
The host then asked if there were any other members having the same experience. Jisoo decided to share her scary story at YG's practice room.
She said that, in the practice room there were a series of lockers for the artists to put clothes and all the necessary practicing equipment. After putting all her belongings inside the lockers, she started to practice in front of the large mirror.
When Jisoo finished practicing, she went to the lockers and suddenly found a white hand lying there. Jisoo panicked and run out of the room.
Henry (Super Junior M)
Henry once confessed that he used not to believe in ghosts until one day he experienced it for himself
The story was that Henry bought a new apartment and on the first night he slept in there, he suddenly felt strange "gazes" staring at him and when he opened his eyes, a fuzzy ghost was standing next to him.
The same thing went on for 3 days in a row, making Henry extremely scared, he called Kyuhyun for help. Kyuhyun introduced Henry to actress Kim Jun Hee, who has also encountered the same weird thing.
When Henry told his story to the actress, it was surprising that the apartment she used to live in was the exact apartment that Henry had just bought!
Eun Jiwon (SECHSKIES)
Eun Jiwon once shared his extremely frightening story that he and his friends experienced when traveling to Hawaii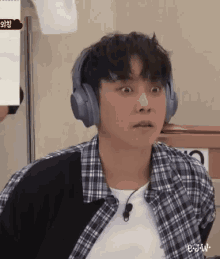 That was when Jiwon and his friends went out late at night. He was driving when he saw a girl walking down the street. Worrying for the girl's safety, the group slowed down and asked if she wanted to hitchhike.
But as soon as the car window was lowered, the girl suddenly approached and screamed in a really weird voice
The team was too scared so they drove away immediately. However, the frightening part here was that when looking back, they saw that 'girl' chasing after them with "unbelievable" speed!
…I must admit that this was actually one of the scariest ghost encounters on this list
Jiyeon 
Jiyeon is also one of the idols encountering creepy events quite frequently. While filming for the horror movie Death Bell 2, she and some actors were doing a very important scene when they suddenly heard the director shout "Cut!", so all immediately stopped.
The director then angrily asked why they stopped, Jiyeon said that she just followed his instructions, but the director said that he didn't say anything.
However when they watched that video again, there was indeed someone shouting "Cut!" while the actors are working on the scene. But that is definitely not the director!
Back when Jiyeon was a trainee, she also saw a ghost in her old dorm. One night, while Jiyeon falling asleep, suddenly she woke up realizing her body was entirely paralyzed and she saw a ghost sitting in the corner of the room. The ghost repeatedly nodded and stared at Jiyeon as if it was about to say something.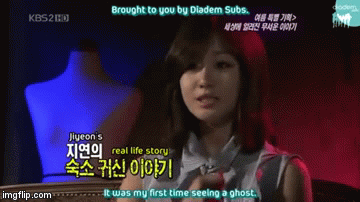 She tried her best to move and then ran to Soyeon to tell her everything that just happened. Soyeon said that she also saw the exact same thing at the same place!
Shinee
When Shinee were still living in their old dorm, one day Onew and Minho returned to the dorm early and there were only two of them there at that time. Onew went to take a shower but found himself forgetting to bring a towel.
He called Minho for help but no one answered. After a while. Onew opened the bathroom door and saw Minho walking from the living room to the kitchen.
Onew thought Minho was going to the laundry room to get a towel for him, but no one came back. He called Minho again and this time, Minho answered him, but appeared from the bedroom in the other direction. Minho said that he just heard Onew because he was taking a shower too.
Well, you can guess what Onew saw
Taemin also couldn't escape the same fate as his teammates. He used to go to the SM's practice room alone at night and heard the piano sound coming from the fourth practice room.
Taemin thought someone was practicing piano in the room so he went there and opened the door, but the room was empty! He panicked and frantically ran away as the piano sound got louder and louder.
Mamamoo
According to Mamamoo, the members were constantly experiencing strange events in their dormitory. One of those events involved Hwasa
It all started when Solar woke up in the middle of the night in the group's dormitory because she heard a strange noise, she then caught Hwasa wandering around the room. Solar found it pretty weird and asked, "What's the matter? What are you doing? Hurry up and take a bath". But Hwasa didn't answer and suddenly turned away
What made things more frightening was the fact that Hwasa wasn't in the dorm that night because she had returned to her hometown Jeonju. Furthermore, the other Mamamoo members were all busy with their own schedules and weren't in the group's dormitory that night. Then what in the world did Solar see?
After the incident, the group decided to move out of the dormitory
BIGBANG
T.O.P once recounted that one time, when he and other members were sitting in the living room to record the show BigBangTV, his iPod in the bedroom suddenly automatically played music. The scariest thing is that before that, T.O.P had turned off the iPod and absolutely no one came in and out of that room while filming.
Taeyang also had quite a lot of horror experiences at the dormitory. Originally not a weak person, Taeyang completely did not believe in the mysteries that are often rumored to happen at YG Entertainment. However, the more he didn't believe it, the more it would likely happen
It all started when Taeyang was constantly exposed to strange phenomena such as: the computer turned on automatically, strange sounds suddenly played on the computer, closed doors in YG's dormitory mysteriously being opened, etc.
Specifically, there was a time when Taeyang was about to enter the bedroom, suddenly there was a loud noise like someone kicking hard against the door. He froze for a moment and then opened the door to see all the members sleeping. Taeyang woke them up and asked if anyone heard the door kick, they all said they didn't hear anything
Another time, when BigBang moved into a new apartment, G-Dragon filmed an introducing video. At the time, the apartment has not been completely equipped, so there were no electronic items such as computers, radio or TV.
However, when Taeyang and G-Dragon edited the video, they heard a strange conversation in it, which was in a… distorted language that no one could understand
Obviously, YG Entertainment should revisit its feng shui as their trainees and artists are constantly facing situations like this
So, which case do you find the most frightening? Are there any scary stories in Kpop that I forgot to mention? Let me know your thoughts by commenting down below. I'll read them all.