Disturbing Sasaeng Stories (Part 1)
Sasaeng fan is a term used to refer to fans who are overly obsessed with their idols. They are no longer an unfamiliar concept to the K-community.
These fans regularly stay on duty and follow their idols almost 24/7. They are also ardent, outrageous, and somewhat blind. The aggressive actions of sasaeng fans have always been the terror and haunt for many K-pop idols.
These stars have all at least experienced an incident with this dangerous type of fan at some point in their lives.
1. Hacking Jungkook's number and spamming him with calls and messages
In 2019, after the fan meeting in Busan ended, Jungkook broadcasted a live stream with fans. But all of a sudden, he disappeared for a moment because someone kept calling him and sending him messages like crazy.
He blatantly revealed to fans that this was from a woman he didn't know and then bluntly blocked this number.
It's super rare for someone to actually get a K-pop idols' number. Their private information is always well protected at all costs. Maybe this woman is a hacker and has found a way to illegally get Jungkook's number and harassed him.
Phone call harassment is not a new thing. It's just scary to know that there's someone who's always trying to get your private information and use it to approach you.
If fans want to show their love to idols, they should opt for a more decent way. Besides, security holes must be fixed in order to project the idols.
2. Sending Chenle blood letter
This isn't from a horror movie. This is the real story that happened to Chenle (NCT). In July 2020, fans were anxious about Chenle's safety and psychological state after discovering a series of disgusting actions a sasaeng fan had done to him.
This woman was reportedly using her own blood to write Chenle's name on a piece of paper with the phrase "xoxo".
Not to mention, this person also posted on Twitter a short but creepy tweet: "Don't you see that I love you, Chenle?". She even threatened SM Entertainment that she would commit suicide if they sued her.
Things were not over when recently, the NCTzen community discovered a newly created Twitter account, believed to be owned by the same woman.
This account initially attracted fans' attention because of a post claiming that they had Chenle's phone number. But the next post is what made fans realize something's not right.
The owner of the account posted a series of screenshots showing that they sent Chenle a bunch of messages. This is a serious invasion of Chenle's privacy and the person should be charged with harassment as soon as possible.
3. Trying to break into Dong Wan's house
This is probably one of the most serious cases since the sasaeng nearly physically approached the idol.  So, outside of Dong Wan's house, there was a sasaeng who always watched and waited for her chance to break in.
Dong Wan affirmed in terror that this woman has followed him and disturbed his private life for a long time.
In one of his Instagram posts, Dong Wan shared some photos of some emails that the sasaeng sent him: "It was freaking hard to find your house [drawing a tongue sticking out]. It's someone you know!", and "Haha, I found it! Kim Dong Wan babo".
Dong Wan then replied: "Please respect that I would like to feel safe in my personal space". His company even called the police and negotiated with the woman many times, but none of that worked. This sasaeng eventually climbed the fence and actually stood in front of Dong Wan's door.
After this, he posted a picture of the woman on his Instagram and begged for help: "If you know this person, please convince her to stop!"
4. Throwing objects at idols on stage
It seems like to many fans, throwing things at idols is an effective way of getting noticed.
Namely Jennie, Rosé, and Jeonghan and were all victims of this reckless behavior of fans. But not as lucky as the above idols who were not hurt, Kang Daniel, J-Hope, Jin, Baekhyun and Heechul appeared to be actually in pain after being thrown objects at.
Can you see how Kang Daniel held his hand and expressed the pain?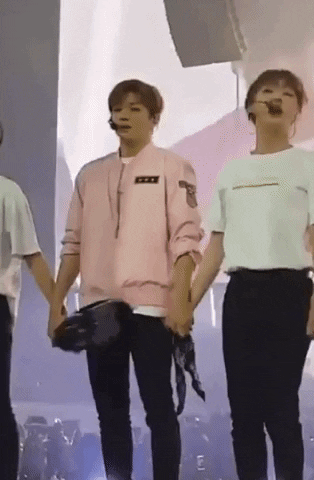 Look at J-Hope covering his eyebrow after being hit by a paper sign but still kept his smile
Jin appeared to be less than amused after something like a bra was thrown at his head
Baekhyun was nearly hit by a teddy bear…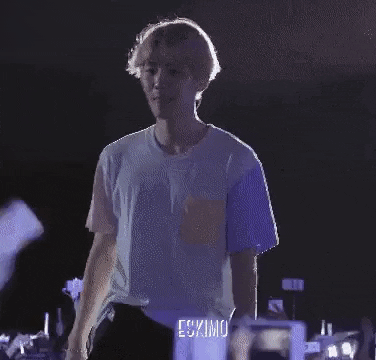 …and the worst situation happened to Super Junior's Heechul when he even got a scar by a LED signboard landed on his face.
"With this scar being the last, I hope nothing comes flying on to the stage, never again", said Heechul after the incident. It would be traumatizing for idols to perform on stage not knowing when, or where something will randomly fly at them.
5. Getting arrested for doing illegal things
Earlier this year, it was reported that a 30-year-old woman was arrested at Changi Airport to buy an air ticket to meet a member of a Korean boy band. The thing is, she bought the ticket with no intention of traveling out of the country.
This is not the first time this has made the headlines in Singapore, with many fans risking getting handcuffed in order to see their idols for those few moments.
I think her idol was Super Junior because her arrest's timing coincided with Super Junior's being in Singapore.
Similarly, some noona sasaeng fans got themselves in trouble when they were arrested for selling Wanna One merchandise to Kuala Lumpur citizens while on tourist visas. The Korean Embassy had to contact the Malaysian authorities before they were finally released.
I understand their love for idols, but it's not worth the risk really. Jail is not simply a room!
6. Trying to get physically close to idols
This is probably one of celebs' biggest red carpet nightmares. Jungkook was chased by a fan while he was on the red carpet, where she tried to kiss him. Gross! Imagine you were in his shoes, what would you do?
Jungkook looked visibly shocked by the incident, which also sparked outrage from his fans.
G-Dragon was also a victim of a fan's expert sneaking skills, as he was grabbed by a female fan during his concert in Seoul. He handled the situation like a pro, continuing to sing despite being extremely surprised. The woman was eventually conducted off stage by security.
7. Jumping over hurdles or climbing on bookshelves
One of the highlights on Music Bank is when the idols arrive for rehearsals and only a short stretch away from the audience.
However, one such experience was spoiled by some noona sasaeng fans when they jumped over the barricades in order to get closer to Wanna One.
Well, at this point I think despite their age, noona fans still suddenly have superpowers when seeing male idols. These barriers are in fact super high and stable, even the security staff found it hard to jump over them. As a result of this incident, the group's walk was canceled due to safety concerns.
Similarly, On March 17, 2012, Block B held a fan signing ceremony at a large bookstore in Suwon, Gyeonggi Do. A lot of fans have flocked to the store to find ways to approach the idol.
Some extreme fans climbed up the bookshelves and stood on the table to "wait" for their idols. These unconscious actions caused many books to fall down and get trampled, the table was also broken due to the weight.
After all, I think that nothing on Earth is impossible for sasaeng fans to grab some little attention from their idols. This has been an alarming issue ever since, and there needs to be a solution for it. Which of the above incidents that you find the most disturbing?