Can you imagine that? Just because V unconsciously touched a random car on the street, right now, everyone from all over the world is competing against each other to become this car's owner.
Specifically, just a few days ago, BTS participated in the filming of "The Late Late Show" with James Corden and performed at the "Crosswalk Concert".
During this segment, the boy group came out during a red light and did a short performance while the traffic was stopped.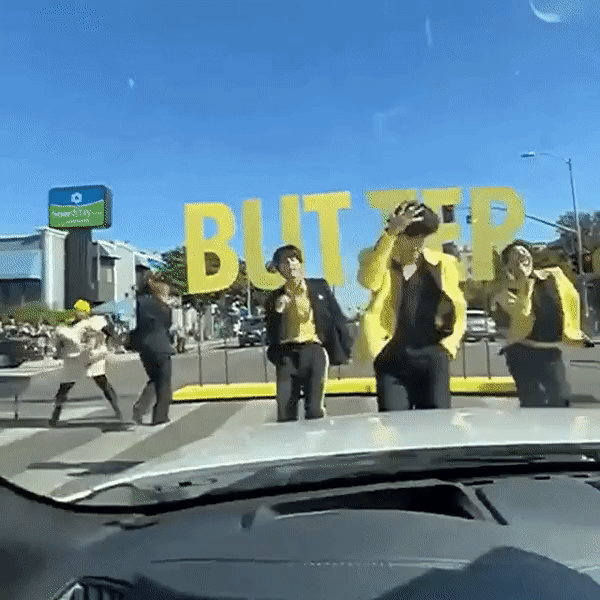 Those who were stopped at the red light had the super good luck of having front seats to watch BTS perform. One of these lucky individuals was News presenter – Cher Calvin.
In the video she uploaded on social platforms, V was seen touching the hood of her car while performing. There are also many of his handprints saved on it.
However, Cher Calvin had no idea how much her video would be overwhelming across the Internet.
Right after uploading it, she quickly got so many inquiries on purchasing her car from various fans from across the world.
Cher revealed that lots of people are willing to pay top dollar for it, telling her som̾e̾t̾h ̾ing like, "How much money do you want?", "I'll wire you the money right now, so please sell the car to me". "I would never get this car washed".
OMG! Just with his light touch in 3 seconds, looks like V can turn a dusty car into an object of high demand.
This proves the incredible impact the BTS member is making at the moment.
However, some netizens hope that it's a joke because if what Cher said is true, these fans are getting really obsessed with their bias.
As a result, they will be no one else but "saesangs" who Kpop idols always get scared of.
Up to now, the car still belongs to Cher Calvin. But whether it will find a new owner in the future? Well, I'm not sure about that. Just stick with us to update more.