In this article, we're gonna talk about some quirky idols who don't care about their image anymore.
1. Brave Girls' Yujeong
For most idols, especially females, keeping in shape is really important, and having a belly sticking out in front of the public is a complete taboo, so many idols have to work hard and go on an extreme diet to lose weight and keep their bellies flat.
But Yujeong from Brave Girls has been indeed very brave for sticking her stomach out on national television. 
After being thrust into the spotlight after one video of Rollin' went viral, Brave Girls have now become Korea's national sensation as their song is sweeping every music chart.
The four girls were invited to Point of Omniscient Interfere to show how their day went.
After enjoying their delicious lunch, Brave Girls found out that their next schedule is a photoshoot, so they worried whether their belly would stick out.
After that, Yujeong stood straight up and presented the small bulge of her stomach, explaining: "When I suck in my stomach, it's like this but when I stick it out, it's like this." 
The singer went on sucking her stomach in then sticking it out repeatedly to playfully joke with her members.
Yuna had to cover Yujeong's belly as a way of protecting her sister's image.
The MC commented that he had never seen a girl group member stick out her stomach like that and found Yujeong super adorable. 
Though the female idol was embarrassed that the footage of her big belly was released, the Korean public did not bash the girl, instead, they even gave out compliments for her lovable personality and healthy body shape, and also thanked her for breaking the stigma of showing belly.
People need to realize that bloating is completely normal for anybody and idols should not be forced to have crazy diets just to have a perfectly flat belly on camera.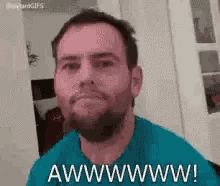 2. GOT7's Jackson
Jackson is indeed a fine man with a sharp jawline and stunning eyes, but he is also the kind of man who would go out his way to deliberately destroy his own majestic image.
In one episode of GOT7's Hard Carry, Jackson was given the task of removing stickers on his body without using… well, his hands.
Not letting Jackson finish this easily, the members decided to put one sticker on his neck.
And the main rapper was sure miserable as he tried violently shaking his head and even using Bambam's shoulder but the stubborn sticker just wouldn't fall off.
However, Jackson wasn't gonna give up quickly. The dedicated king of meme decided to give it all, even if the price was to sacrifice his own image.
Pushing his neck forward like a dinosaur is not enough, the guy started crawling on the floor and did a semi-pushup.
Then he threw his body into the wall hoping the sticker would magically fly off somehow.
Despite knowing for sure that this video would be watched by thousands of fans, the only person Jackson was embarrassed of while all doing this was his mom. His idol image was the last thing he worried about then. 
Even when the members try to be serious, Jackson would still be the weirdo.
Appearing on After School Club in 2016 to promote their new album, GOT7 were asked to express their gratitude towards fans with their faces.
While the other members simply smiled brightly or acted adorably, when it came to Jackson's turn, he just had to make a grimace.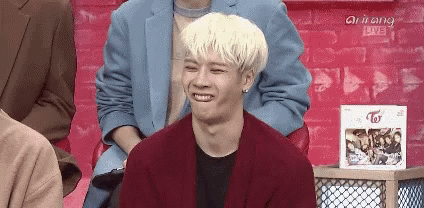 It seemed like that ridiculous expression is Jackson's favorite as he did it again on GOT7's vlive and Weekly idol too. 
3. BTS's J-Hope
When most non-fans know J-Hope is the rapper and the main dancer of BTS, they would probably suppose this guy to be the cool one.
Little do they know, Mr. Sunshine here is the "vitamin" of the group thanks to the bright vibe and the positive energy that he brings.
Despite being the world's top star, J-Hope never shies away from acting like a total weirdo in front of the camera.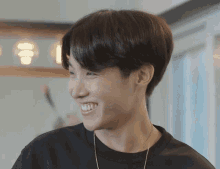 Ever since BTS's rookie years, J-Hope has already given up the glamorous image of an idol.
In the Bangtan Bomb episode – Runway in the night, other members like Suga or Jungkook were trying their best to serve the badass catwalk in the hallway
…but there came J-Hope: He walked out in one sassy mode then suddenly started to wiggle his whole upper body while beaming with delight.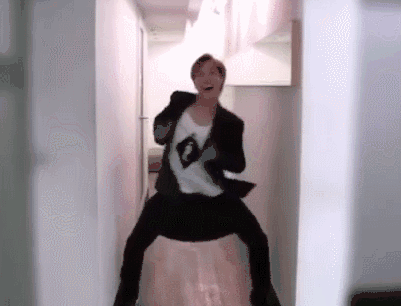 The show didn't stop there – J-Hope turned his body around, shook and slapped his butts as he walked out. Well, there goes the idol image.
As the main dancer of the group, J-Hope indeed brings out many amazing performances that make the hearts of millions of ARMYs flutter, but he also uses his talent to create laughter.
In one episode of Yaman TV in 2016, J-Hope was asked to show his skills to the viewers and he decided to do a dance cover of Red Velvet's Ice Cream Cake.
He looked reserved and unsure at first, it almost seemed like the boy was a little bit embarrassed to dance to a girl group's song.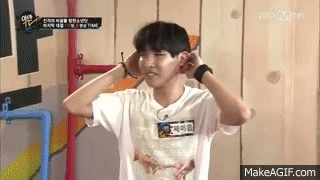 But just as the chorus starts, J-Hope passionately swung his whole body to the music and even added some extra spice by exaggerating the movements and making them sexy.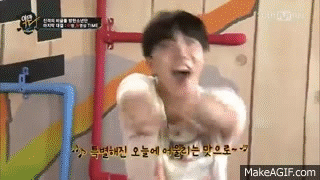 When Red Velvet saw the video, all the members burst into laughter as J-Hope was wiggling his booty to the camera, and the fans commented how secondhand embarrassed they are now that their idol's image was ruined in front of pretty girls.
J-Hope on the other hand probably didn't mind at all and never stopped dancing weirdly on television, as seen in many behind the scene videos and other variety shows like Weekly idol. 
4. EXID's Hani
Rising to fame thanks to one particular fancam of Up & Down, Hani is widely known for her stunning beauty and sexy charisma on stage.
Some fans even compare her to 'goddess' whenever she shows up with that appealing visual.
But whenever this female idol goes to variety shows or appears in behind the scene videos, the goddess definitely throws her image out of the window as her facial expressions are always exceptionally… comical.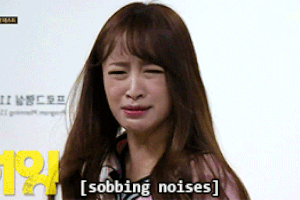 Most female idols would refrain themselves from laughing too hard or acting too weirdly in front of the camera as they are scared they might look ugly, Hani however could pretend to throw up while rolling her eyes back into her head
…or pick out earwax then throw it into the ground
…and she could also laugh out loud so hard that she almost fell out of her seat
…And all of those happened in only one episode of Weekly Idol. 
In the show Socializing Camp for idols, Hani and BTOB's Changsub were put into 2 separate rooms next to each other to enjoy their meals.
Then all of a sudden the door flung open and Hani was so surprised to the point she screamed at the top of her lungs, scaring Changsub.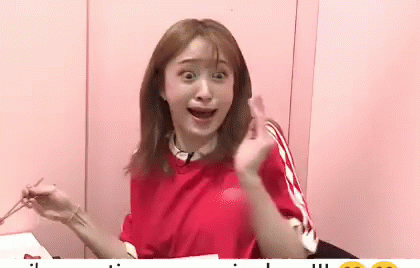 But what truly made Changsub almost choke on his food was Hani's facial expression – which was possibly compared to the notorious "The Scream" painting.
Realizing she has just nearly scared her colleague to death, Hani could only laugh in embarrassment while putting one leg up in her chair. 
Few people would complain that the star of EXID is acting way too excessively, but fans of variety shows love her anyway.
Many request her to go on shows more since her quirk is more enjoyable and also more relatable to viewers than gorgeous idols who don't dare to throw their perfect image away.
5. SEVENTEEN's DK
Of course when most people, even idols, are scared they would startle or scream.
But for the main vocalist of SEVENTEEN, his soul probably leaves his body right when he's scared as the poor boy did not give a damn about anything anymore, even the fact that he's an idol and needs to maintain the cool image.
Once DK was punished for coming in last in a SEVENTEEN's game and he had to guess what's inside the mystery box.
It was literally just harmless udon noodles, but the boy was so worried that it might be some live creature and already yelled when he hadn't touched the noodles yet.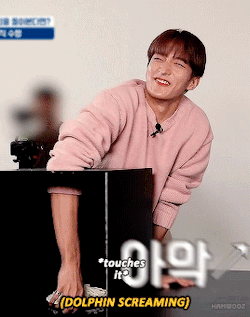 Eventually, DK did touch it, and right at that moment, he screamed like a dolphin then ran straight to the wall to wipe his hands repetitively on the wall. 
Frankly his reaction is always so funny that people love to put him in this type of situation. In one episode of Going SEVENTEEN where members have to take the MBTI test, each one was put in a small room with 4 mannequins.
DK was completely relaxed at first and did not suspect a thing. Then all of a sudden, the light went off, DK once again let out a high-pitched dolphin scream and soon realized the 'mannequins' could move and they were getting closer to him
The poor idol looked absolutely frightened, mumbling "Why?" with his eyes, nose, lips opened wide (7:54)
If you look closely you can also see that his veins were popping out of his face and neck. The handsome face was then a total meme material. 
When people looked at DK's pictorial, no one was able to believe the scaredy-cat could actually be this attractive guy:
Some fans wish that DK knows how to make use of his visuals more, but many agree that his dorky side is what makes DK more lovable. 
So, which idol above do you think is most active in "destroying" their image? Comment down below to share your thoughts with us.