Being known as the "monster rookie" of Kpop, ITZY once again takes over the world with their latest release Mafia in the morning.
The catchy tune, the explosive performance, the huge album sales, and the breakthrough on the world's music chart – people just can't get enough of ITZY at this point. 
But this is not the first time ITZY reigns over every social platform – ever since their debut, many ITZY's songs like DALLA DALLA and Wannabe have proved to smash hits by their massive digital sales and overwhelming views on Youtube.
So how come a rookie girl group like ITZY can be this incredibly popular? We believe there are four key reasons behind this.
1. Everyone is a top visual
Well, for starters, visuals are obviously the number 1 factor to attract fans, and ITZY sure has a lot to offer.
Despite debuting at such young ages, the five members of ITZY have already been making numerous headlines in Korean newspapers for their gorgeous facial features and surreal body proportions.
The easiest to recognize is probably Yeji – the girl whose stunning cat eyes captivate the audience right from the start.
You might find Yeji very familiar – that's because she looks so much like the Light Fury from How to train your dragons.
And just like that pretty dragon that Toothless falls in love with, Yeji can also be adorable and intimidating at the same time, making her pull off both cute and girl crush concepts at ease. 
And then there's Lia whose visual can be compared to a porcelain doll thanks to her big, dreamy eyes and small heart-shaped lips.
Despite having an elegant image on stage, Lia in real life is actually so goofy that fans can't help having a soft spot for this girl. 
Unlike Lia, Ryujin is totally girl crush material with her sharp gaze and strong charismatic look.
To be honest, not every Kpop idol can look pretty in the black lipstick, but Ryujin can definitely rock this look and make both boys and girls flustered. 
Now, when it comes to Chaeryeong, some netizens give her such a hard time for her look, but many fans argue that they are way too harsh on her just because her beauty does not fit most Korean standards.
However, if you look at her face long enough, her glass skin, sparkling eyes and sweet smile will steal your heart right away.
Last but not least, the maknae and also the visual of ITZY – Yuna. Despite being only 18, she is undoubtedly one of the top visuals of Kpop's 4th generation.
With a small oval face, big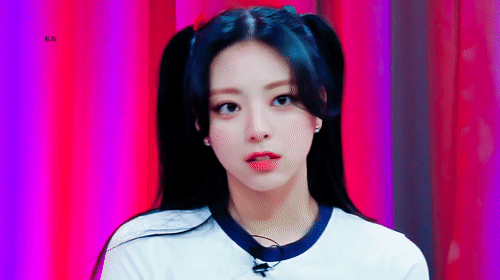 doe eyes, a seductive gaze and an insane figure, Yuna's beauty easily becomes a trending topic on Korean forums.
Yuna looking pretty in poor-quality snapshots – trending topic! Yuna looking like a high-teen actress after getting rid of her bang – a trending topic! Yuna eating bingsu quickly while still looking like a barbie doll – trending topic!
At this point, Yuna is already expected to follow in the footsteps of her seniors like Suzy and TWICE's Tzuyu to become the new generation's Kpop beauty goddess at the age of 18. 
Coming to ITZY is like countering a visual attack. Each member is unique in their own way, making it harder to resist falling for these girls.
2. Crazy dancing skills
Obviously, being pretty alone ain't gonna make fans stay long. The idols need to have certain skills as well, dancing, singing, stage presence. ITZY seems to have it all covered when all five members possess admirable dancing skills, especially the "JYP's Secret Weapon" Hwang Yeji.
Recently featured as "Artist of the month" on Studio Choom, Yeji revealed on this channel that she once hated dancing!
But things all changed when her big sister needed a partner to dance to Wonder Girls' famous songs – Tell me and So hot, so poor Yeji was reluctantly pulled in.
JYP must have owed her sister big time, because that was the moment Yeji got hooked with this art. Ever since elementary school, Yeji has joined a local dance group and quickly earned the center position after only two weeks.
Her talent was proved once again when even veteran idols like Junho and BoA, or famous singer Yoo Heeyeol praised Yeji for her mesmerizing performance on the variety show The Fan. 
Besides Yeji, Ryujin also got good responses for her skills. Remember that iconic shoulder move in Wannabe? This fun and tricky dance move went super-viral for a long time.
Many other idols attempted to recreate the move like TWICE, SEVENTEEN, ASTRO, (G)I-DLE and many more, but no one could do it like Ryujin.
However, only Yeji and Ryujin are not enough to create an explosive stage for ITZY, it must take a group effort to totally nail it.
Just by watching Mafia in the morning, Wannabe, or Not Shy performances, everyone can tell how hardcore the choreographies are, yet ITZY still remain super synchronized while rocking every move.
The professional dancer – Hyunseung Cha has to claim that all ITZY members are some of the best idol dancers, besides the legendary EXO's Kai and BTS's Jimin.
Some even realize ITZY's choreography is as hard as that of boy groups, and they often say "their choreographies are too difficult and too cool for a girl group" as a compliment, but beware, Ryujin isn't so happy about that.
She does not believe that comparing ITZY's choreographies to those of male groups is truly flattering. In fact, it sounds like girl groups are inferior in some way.
All five girls work their fingers to the bone not to be on par with some other boy groups, but to bring out their best for the fans, and people should acknowledge that. 
With that in mind, ITZY always delivers the most dazzling performances, and people seem like they can't take their eyes off these incredible girls.
Just look at those Youtube videos of their MVs, live stages, their dance practices, or even encores, the numbers of views are always millions, a number that most rookie groups can only dream of.
3. JYP
No one can deny that debuting under the "Big 3" is a perfect start for any idol group out there. Coming from JYP, ITZY effortlessly gained huge attention right from the beginning.
Also, JYP provided them great training, great resources, and fantastic promotions – those three elements seem to have already ensured ITZY's success.
And since ITZY debuted under JYP Entertainment, they also have another privilege: getting the help of Jinyoung Park himself. 
Since forever, JYP has been notorious for being a successful girl-group maker. From Wonder Girls' Nobody to TWICE's Cheer up, everyone has to admit that Jinyoung Park is a genius in making national hits for girl groups.
Also, can you believe that within just 6 years, JYP let TWICE have 30 comebacks in total with 30 different concepts, and every single one of them is a hit?
Yes, Korean netizens are all surprised at how insanely creative the president of JYP can be. ITZY's fans can rest assured that ITZY's concepts will never be boring because Jinyoung Park is in charge. 
ITZY's latest comeback – Mafia in the morning has recently stirred up the whole nation is also another work of Jinyoung Park. He is the co-composer and lyricist of the song.
Fans may argue that it's ITZY's effort that makes the song successful, but still, JYP's talent in producing is undeniable.
4. Midzy
Behind every successful idol, there stands a whole devoted fandom.
If you stan a Kpop group, you will not find it unfamiliar to buy albums in bulks, to sacrifice your sleep and your electric bills to stream songs on every music service possible, to trend hashtags on Twitter even if barely anyone cares, to frantically vote when it comes to music shows and award season, to purchase every merchandise that idols release even though they are not really useful, to go out of your way and protect your idols whenever something fishy or scandalous pops up…
They're all glorious parts of being a Kpop fan. And thanks to that loyal support, idols have more motivation to strive and thrive in this ruthless industry. 
ITZY is no exception in this case. Ever since pre-debut, when these girls for the first time appeared on JYP trainee lists and survival shows, Midzy has always got their back.
Their contribution helped ITZY get their first win, becoming the fastest girl group to earn the trophy on a music show, enter Gaon Album Chart, and bag home 21 awards from all year-end ceremonies.
All five title songs that ITZY released hit 100 million views on Youtube, and of course there's always Midzy's part in those achievements.
Not to mention, Midzy is one of the nicest fandoms in the Kpop community, who has never really been involved in toxic fanwars, which also helps ITZY gain more sympathy from the public.
Like idols, like fans. A faithful fandom is also the fruit of loving care and sincere affection that ITZY have for their supporters.
During a recent live broadcast, Yuna suddenly became emotional and broke down in tears since she couldn't meet and thank Midzys in person due to the ongoing corona pandemic.
You can tell how ITZY are truly grateful to fans for their amazing contribution that makes ITZY what they are today.
So, what are your opinions about ITZY? Do you think there are other reasons for their success? Comment down below to share your thoughts with us.