Yuna vs Yoona
The youngest member of ITZY is famous for her outstanding appearance. Even though she is just 17 years old, her S-line body and her aura impress lots of people.
Thanks to the mature beauty, she has received tons of positive comments ever since her debut. Also, she is considered one of the most charming members of the group. 
However, currently, when the picture capturing Yoona (SNSD) and Yuna (ITZY) in the same frame, a huge amount of attention was drawn to their beauties.
At the MBC Gayo Daejun music event on December 31, 2019, Yoona took on MC's role, and Yuna was one of the groups participating in the event. When a moment of their standing close to each other was captured, netizens continuously argued about "who has more outstanding beauty."
Most of the comments praised Yoona's youthful beauty. She has a small face, glittering deer eyes, and a perfect angle. Her bright smile made the surrounding atmosphere glow.
In the same frame, Yuna is a bit inferior in the aura. All eyes seem to be focused on Yoona's shiny skin, stunning face in the photo. Apparently, age is not a problem for Yoona since she's 13 years older than Yuna and can still outshine her junior.
Nancy vs Jisoo
Even before the official debut, Nancy had already been well-known for her angel beauty. She's currently one of the most beautiful K-pop idols in general and the most popular member in MOMOLAND in particular. Some people even call MOMOLAND "Nancy and her friends" instead of the group's name because Nancy's fame is overwhelming. 
Yet, as gorgeous as Nancy can also be outshone by Jisoo when the two beauties stood next to each other at Music Core stage. Many agree, Nancy is pretty, but when standing next to the visual of BLACKPINK, she is clearly inferior.
MOMOLAND's maknae reveals a short and chubby figure, which is different from Jisoo's toned body. Not to mention, Nancy's sleepy facial expression also made her less attractive than a bright, happy Jisoo standing next to her. 
Sana vs Irene
Ever since Sana's participation in SIXTEEN, a survival show to form TWICE later on, she had already received a lot of attention thanks to the naive yet captivating appearance.
In particular, she looks exceptionally shining when standing on stage. Like a jewel, she's continually being noticed by netizens for her beauty and charismatic aura. Moreover, she even somewhat overwhelmed her fellow friend Tzuyu, who is considered the beauty goddess of the new generation.
Yet, when Irene Red Velvet and Sana were chosen to be special MC for KBS Gayo Daejun 2017, people had a chance to discuss a lot about their look. They had two opposite styles.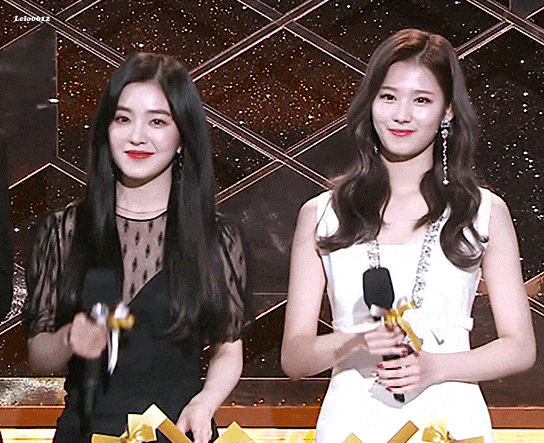 While Sana is as cute as a princess with a white dress and slightly curled hair, Irene chose an elegant and mysterious style of a queen. Although she is a bit shorter than Sana, Irene is said to be superior to Sana in terms of beauty and charisma.
Netizens pointed out while the visual of Red Velvet looks like a truly classy lady, Sana seems kinda naive and basic.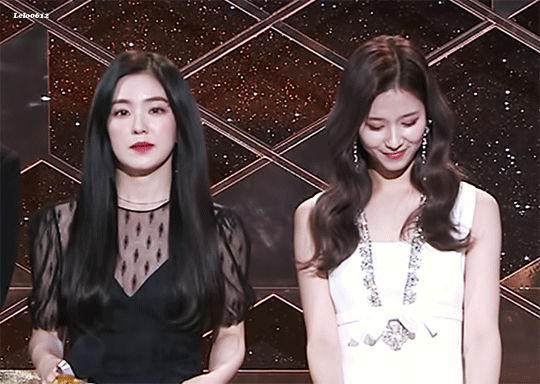 Tzuyu vs Seolhyun
Tzuyu has been admired by many people since her debut because of her goddess appearance. Many netizens agree that, although there are many beautiful idols, Tzuyu's beauty is something out of this world.
Specifically, she doesn't possess all Korean beauty standards like snow white skin, V-line face or heart-shaped lips, but somehow, her charm is very different and more unique than many other idols. Always ranking high in the men's polls, she is expected to grow even further in the future thanks to her gorgeous face and ideal body shape. 
But in some photos when Tzuyu was performing with Hani (EXID), Seolhyun (AOA) in a show, she looks like she was overwhelmed by her seniors. Many netizens agreed Tzuyu was a bit inferior to Hani and especially Seolhyun – the National Treasure.
There are also other photos of Tzuyu and Seolhyun together and the AOA's member still drew more attention to herself. Looking at these pictures, though Tzuyu was praised for her undeniable charm, people are still drawn to the overwhelming beauty and charisma of Seolhyun.
Some even left straight comments like:
"I think Seolhyun is the prettiest in these photos".
"Tzuyu is really pretty but I think she's not yet the prettiest female idol". 
Suzy vs Jisoo
In 2018, Suzy came back with her song "Holiday" at MBC's Inkigayo music show. Coincidentally, that was also the time when Jisoo took on the role of MC and so, when Jisoo did an interview, she had the opportunity to stand in the same frame with one of the top K-pop beauties, Suzy.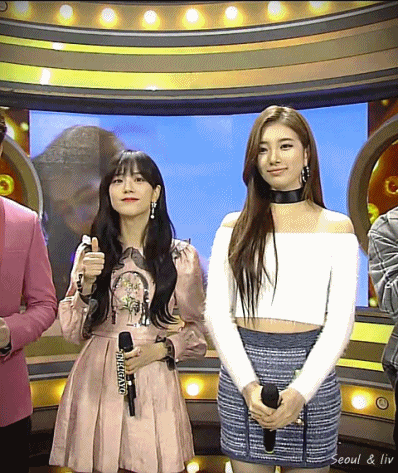 Soon, the topic of comparing beauty between these two beauties inevitably appeared on the internet.
Yet, in the end, most netizens voted for Jisoo. Despite being taller than Jisoo and having a brighter complexion, Suzy didn't get as much attention as the visual of BLACKPINK.
Her makeup made her look artificially young, especially the nude lip color didn't do her beautiful lips any justice. Also, her eyes look oddly big with the contact lens and her face is slightly bigger than Jisoo. 
If you like watching videos like this, comment down below to let us know.